1. The Right To Rock
2. Back To The City
3. Let's Spend The Night Together
4. Easier Said Than Done
5. So Many Girls, So Little Time
6. Electric Love
7. Speed Demon
8. Get Down
9. You're The Victim (I'm The Crime)
Keel was formed in 1984 upon the demise of the Ron Keel fronted Nashville band Steeler. After scoring with a commercially successful independent album release in '83, Ron Keel wanted a fresh challenge. The members of Steeler went their separate ways and formed their own new projects and big Ron put together a brand new heavy metal act under the banner of his surname. Eventually solidifying the classic line-up that featured Ron Keel on vocals, guitarists Marc Ferrari and Bryan Jay, bassist Kenny Chaisson and drummer Dwain Miller (replacing the departing Bobby Marks), Keel put out their debut "
Lay Down The Law
". Shrapnel records guitar wank impresario Mike Varney had given big Ron free reign to twiddle the knobs in the studio and stamp his vision all over the bands sound.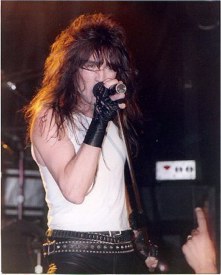 "From Day One I ruled the band with an iron fist. I had enough success from Steeler to afford me the ability to call the shots, and the guys in the band worked their asses off to help realize the dream. We rehearsed from noon to midnight, pouring our sweat muscle and blood into being the best, and it paid off. Our debut show was April 27th, 1984 at Perkin's Palace in Pasadena, CA in front of 1500 rabid metal heads and we just kept steamrolling ahead from there."
–
Ron Keel
The band entered the studio to begin work on their sophomore effort with KISS legend Gene $immons as producer. It was to be entitled "
The Right To Rock
", named after the song of the same name that had been cut during the debut album's recording sessions. The song kicks everything off with a simple flesh ripping guitar riff from Marc Ferrari (a guy who looks like Nancy from
A Nightmare On Elm Street
, due to his hair), pounding drums and Ron Keel's unmistakable leather lunged vocal delivery – it's an instant heavy metal anthem! The thing that will make you either love or hate Keel though, is Ron's voice. He sounds like a lion in a blender! But, the dude has serious, air-raid siren pipes and in my opinion, has the perfect style for singing heavy fucking metal! The song is your typical, fight the power, live to rock n' roll, kick ass rock song that was backed in '85 with a made for MTV video – A kid being chased by generic G-men for listening to hard rock in a state where music is against the law, makes his way to a Keel show. The band then proceeds to blow the G-dudes heads off with the sheer power of their playing! Only in the 80s baby….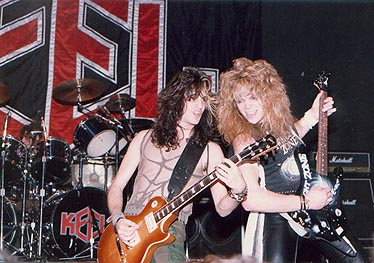 "
Back To The City
" storms in without letting you catch a breath and I have to say, it's my favourite cut on the album, maybe even my favourite Keel song period. The riff is totally immense and so satisfyingly crushing, that it will demand full volume until the walls are screaming back at you for mercy! Seriously, it's a cracking metal song, with stellar face melting lead guitar work, it's just perfect. The lyrics are great, Ron's voice sounds huge and the chorus has me in a fist pumping frenzy spin after spin. "Back To The City" is also notable for being featured in the Sci-Fi family film
"D.A.R.Y.L."
Keel then dish out a fine version of the Rolling Stones "
Let's Spend The Night Together
", which is obviously much more metallic than the original song. Other stand-outs are "
Electric Love
", which is simply stunning. There's more great vocal displays and a fantastic melodic chorus to boot – And "
Speed Demon
", which was re-recorded from the debut offering. While I do prefer the original cut of this song, the version on "
The Right To Rock
" still kicks major ass! "
Speed Demon
" should be remembered and held in the same regard as songs like; "
Born To Be Wild
", "
Bad Motor Scooter
" and "
Radar Love
". Meanwhile, stuff like "
Get Down
", "
You're The Victim (I'm The Crime)
", "
So Many Girls, So Little Time
" (great title) and "
Easier Said Than Done
" make up the rest of the record and you can easily hear the influence of sleazy Gene $immons, especially as he wrote at least three of the tunes that are present here. I wouldn't say these songs are filler. In no way are they filler, but they are mostly memorable for their loud as fuck choruses. Keel are a great band and this is proof why. They kill every time with strong songs that are pure 80s heavy metal, they do it all the way it should be done and you can't ask anymore than that.
"
The Right To Rock
" was released on January 25th, 1985 and promptly became the fastest selling debut album in the history of A&M Records, cracking the Billboard Hot 100 charts (#99) and earned Keel best new band honours in Circus Magazine, Hit Parader, and Metal Edge. These days the band is mostly considered a cheesy dinosaur from a land that time forgot (although they still look as if they could flatten your butt like a mean machine steamroller). "
The Right To Rock
" album is unfortunately an abandoned slice of 80s heavy metal, left to go mouldy by rockers that changed their taste, grew old and bowed down to "the man". To those in the know, that stayed loyal and to a newer generation embracing classic rock, make sure you check this one out as Keel can still strike a mighty power chord that resonates deep within the very soul…
RATING:
© Flash Metal Circus