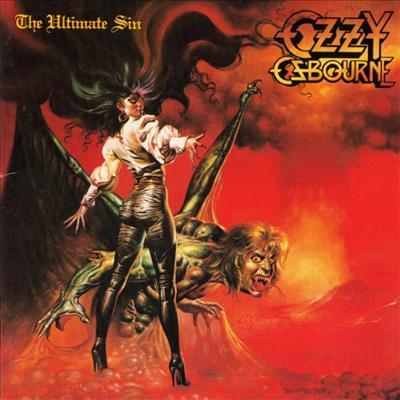 1. The Ultimate Sin
2. Secret Loser
3. Never Know Why
4. Thank God For The Bomb
5. Never
6. Lightning Strikes
7. Killer Of Giants
8. Fool Like You
9. Shot In The Dark

"The Ultimate Sin" is an epic beast and a true Flash Metal gem – one of my favourite records of all time folks. I remember spending so many moonlit nights as a 16yr old spinning this sucker over and over, side by side, gawking out the window, longing for memories and experiences that I couldn't even begin to put into words. Uh-oh! Don't want to start rambling nonsense but every word I type here, I swear is a labour of love.
So, anyway, just look at that fucking cover! It calls upon your heavy metal hunger, to place it on the turntable, crank it to max volume and commands you to bang your head like some uncontrollable zombie…
Often considered just to be Ozzy's "glam-metal" phase, it is oh so much more. At the time of its release, "The Ultimate Sin" (originally titled "Killer Of Giants") was Ozzy's highest charting studio album. The RIAA awarded the album Platinum status on May 14, 1986 and it was awarded double Platinum status on October 26, 1994. TUS is one of the most perfect slices of 80s metal you could possibly wish to hear and it almost transports you right back to 1986, when all anyone ever cared about was kicking ass and chewing bubblegum. To me, the album is a step up from previous platter "Bark At The Moon", in the sense that, it truly defines the artist at that point in time. There are no crusty aural leftovers harking back to the days of Sabbath or the late 70s hard rock style present on Ozzy's first two solo outings. TUS stands alone, sounding different to anything the prince of darkness had conjured before and would create afterward. It is pure, unadulterated, unashamedly energetic heavy fucking metal! To be fair, one could look back and giggle at the Ozzman's attire during this particular tour, but one can also go and shove their ass in a blender. Seriously, you don't ever dare to question a grown man wearing a bumble-bee patterned evening gown and a Dallas style wig….That's what I like to call having balls and knowing how to be an proper entertainer. Ozzy Osbourne ruled the fucking universe back in '86.
The music itself is fantastic; Jake E. Lee lays down some nasty riffs, full of 16-bit analogue 80s crunch, while the Ozzman delivers some of his cleanest, stable vocals ever and the whole combination echoes into the darkest corners of your mind – it's unforgettable. The lyrics are packed with rock n' roll tales of self loathing, stalking, and caustic warnings in fear of nuclear winter, bathed in ice-cold neon steel and pressed into vinyl form. The title track is an awesome thumping, rasping anthem (with a hilarious video to boot!) and contains some weird little sound effects and gremlin-like voices that pop up now and then throughout the whole album. "Secret Loser" is jaw-droppingly cool and Jake E. Lee's guitar work is once again nothing short of phenomenal (a shame that this would be his last record with Ozzy), proving that life could go on without Randy Rhoades – the fact is Jake had the chops to play Randy's stuff well and churn out his own classic pieces - The overall sound, tempo and chorus of this track is irresistibly up-beat and catchy as hell (The song was also featured in the movie The Wraith).
"Thank God For The Bomb" (great title) is yet another song with amazing riffs and a shout it out loud chorus. "Lightning Strikes" baffles me as to why Ozzy doesn't have it in his set and why his fans don't covet this one more proudly!? It's fucking immense in every way, especially the way it opens – a guitar riff very reminiscent of "Crazy Train" lurking in before Ozzy's trademark wail rides in on top. "Lightning Strikes" is easily one of the strongest cuts on here - an utter joy to rock along to. "Killer Of Giants" is a ballad and a very, very good one. The lyrics take a more serious turn here and Ozzy's voice has never sounded better. The verses and pre-chorus build so majestically into a simple, yet powerful main hook. "Fool Like You" is cool as fucking anything! Awesome lyrics, awesome riffs, vocals, drumming - you name it. The tempo and pacing of this song is absolutely perfect, another stand-out.
The final song is "Shot In The Dark", which is the most well known song on here (released as a single with an excellent video) and it is without doubt, exceptional. The music is gorgeous, dream-like and bitching all at the same time. Once, again the lyrics are wonderful and Ozzy's vocals seem quite haunting. I always find that when I listen to this track, I get a little teary. It embodies everything I love about 80s music and 80s metal in particular and I cannot stress that strongly enough! "Shot In The Dark" is one of my all time favourite rock songs and possesses a super guitar solo that I have never forgotten my fondness for.
If you don't have this record in your collection. Buy it. If it's not your bag after a few spins, fine. But at least give this one a listen, as too few do (it's only been remastered once - in 1995!?) Most of the tracks present here are never mentioned at all these days when Ozzy's back catalogue is reviewed or summarized for yet another "best of/greatest hits" package. "The Ultimate Sin" is sinfully good Flash Metal, that never fails to sate the bats in my mental belfry...

RATING:

© Flash Metal Circus